Home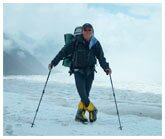 Dear friends!
We invite you to discover amazing beauty of the Lake Baikal, Barguzin valley, Eastern Sayan mountains and other picturesque areas of Buryatia, together with the team of experienced guides of "Baikal-Alptour" company.
In 2013 we offer mountain tours: ascent to the top of mount Munku-Sardyk (3491 m), backpacking tours to Shumak mineral springs valley and to the plateau of Holy Nose peninsula, rafting on Turka river, ethnography weekend tours and also we open again ger camp on the Lake Baikal (Goryachinsk area).
This journey will be in harmonious company, with relaxing camp-fire, accompanied by guitar. May this journey help you to get charged with the positive energy, to have a nice active vacation and to get some new friendships.